Strengthening the tribe
Over the last year we invested time in developing a clearer understanding of our identity, the characteristics that support this and how we can individually align with this through our actions.
A passion for making great things happen – supporting innovation and entrepreneurs – is a given. But there is more to our tribe than that. We have collectively developed guiding principles to help all our stakeholders align their own contribution and actions with our ambition. That understanding helped us bring on board some great new people that were excited about how we want to be and felt they could contribute to that. There are great examples of people in the business embracing these values – taking the initiative with their own passions – our impact on the environment, our contribution to our communities, with innovation in their roles, with their particular client focus, with their own development and the role they play in the development of others.
This clarity also helped others to take the positive decision to move on and find homes that aligned more clearly with their own approach and outlook and we commend them for that. It is unsettling when we lose people from the tribe but it also a natural part of being a dynamic and progressive organisation that continues to evolve. We are very clear now about our identity and ambition and the past year has seen us restate our commitment to this in words and actions.
Greater clarity has given us confidence. That confidence has fuelled authenticity in our actions. Our identity has evolved and strengthened as a result. This will be the foundation of our future success.
PitchUp
We saw PitchUp return with an array of ideas from agile working to a Taylor Vinters App – 13 teams came together to take part but there could only be one winner. Wellbeing continued to be a strong theme with Beyond Reasonable Drought taking 39% of the votes to be crowned winners! Their Love Island themed pitch caught the attention of the room, so now, thanks to Claire, Patrick, Jo and Alison you can not only stay hydrated but also do it in style with your own personalised water bottle.
London refurbishment
The London office has become an integral part of the working week for our broader team, not just those permanently located in Tower 42. Last year we decided that we needed a fresh working environment better suited to the way we work in London and the way we think we will increasingly work in a modern law firm environment. We embarked on a project to foster greater collaboration, flexibility and creativity through design. The refreshed London office came on line in April offering a bright and adaptable environment and we are already seeing a sea change in the way our business is using the premium space that the London office represents. We should not only be proud of our new space but also the way in which the project was delivered without material damage to the business in London. A positive attitude creating a positive space.
The Zebra Project
Launched in January 2018, The Zebra Project had a clear aim: to bring together business leaders, policy makers, academics and creative thinkers to navigate one of the biggest challenges facing us in the future: the world of work.
Five events into our 12 month project, we have facilitated conversations on key themes with over 200 attendees, collaborated with 20 of our existing and extended network to participate and share their insights and experiences as panellists, produced 24 videos and pieces of content to further discussions and seen our network making introductions and inviting new contacts to join The Zebra Project, opening up opportunities for new introductions and further collaboration.
We are also seeing an impact in terms of internal objectives: higher levels of engagement with our content across social media than we have seen before and over 6,300 unique views of the dedicated Zebra website, increased press opportunities for commentary and an expansion of our network with introductions facilitated by attendees and collaborators. All of which are working to raise the profile of the brand and placing us strongly in the innovation ecosystem. It has also provided a key opportunity to reconnect with our clients and a joined up story to tell across the firm.
"Really excellent event, well done. Innovative, thought provoking, and wide ranging." – Bidwells
"Excellent content, exceeded my expectations." – Allium Wood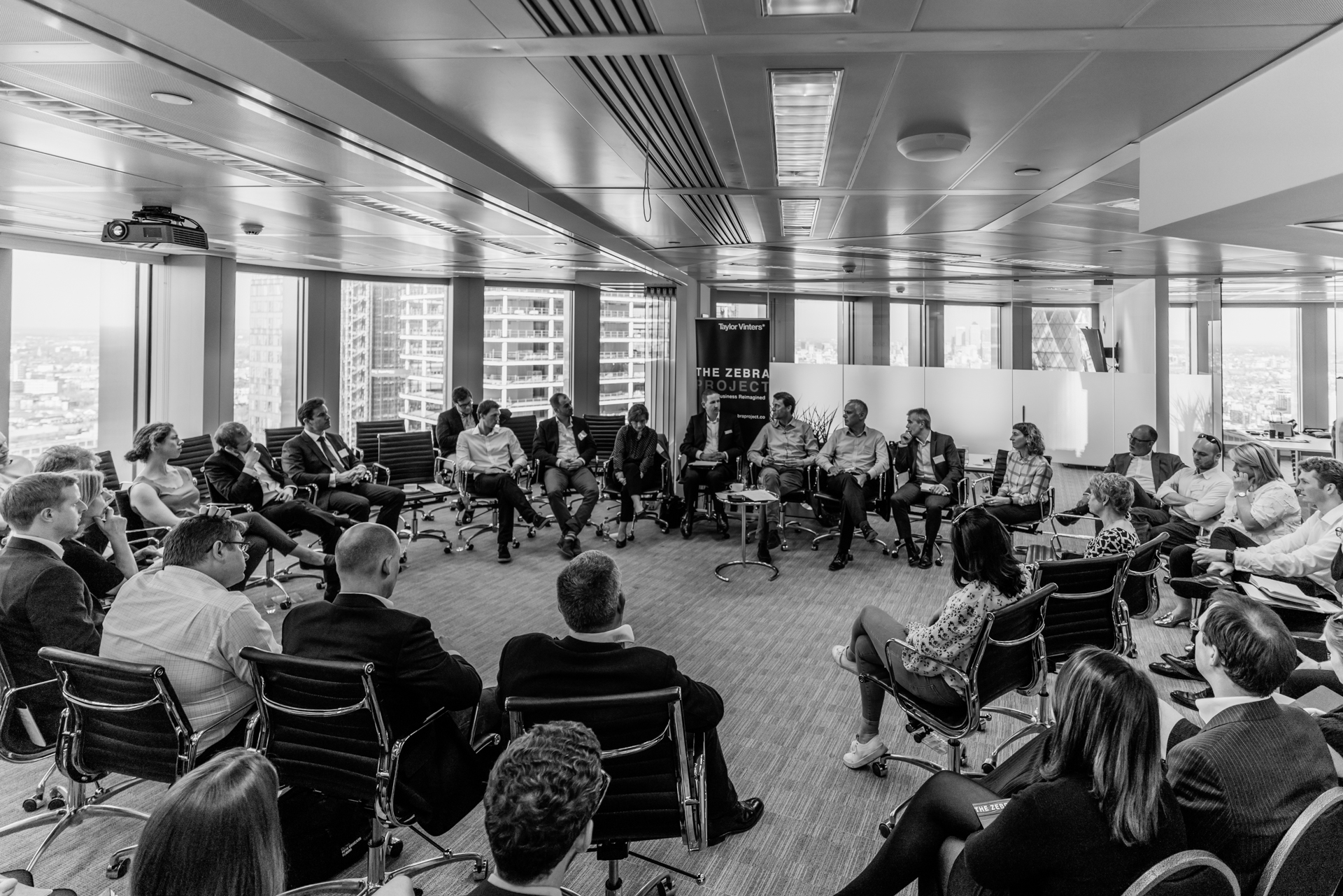 Good to great campaign
During the year we took part in the Best Companies Engagement Survey, with over 80% of us completing the survey.
The results are helping us progress towards being a truly great place to work. We learnt that the things we value and feel most positive about include our culture and people, our strategy & leadership and the opportunities we create to be our best.
These results have helped us discuss and explore what is important to us, and to think about the things we could do to make TV's an even better place to work. Over the coming year we will continue to focus on what we are great at and develop the areas that are important to us. These include embedding our guiding principles, further developing our leadership & managerial capabilities, and creating opportunities to celebrate success.
Learning at work week
The winners of the Learning at Work Week Impact Awards were announced in late 2017 by the Campaign for Learning with Taylor Vinters taking home 'The Campaign for Learning Impact Award' for Inspiring Curiosity and Creativity in the SME category.
Learning at Work Week takes place in May every year. It is coordinated by the Campaign for Learning and is led by companies and organisations in their workplaces. Firms use the week to promote their current learning and development programmes and trial new ways of learning at work.
ThoughtRiver. Invented here.
ThoughtRiver is the leading intelligent contract analytics pioneer founded by us and now selling across 3 continents.
For those of you not yet familiar with the product, it uses its own revolutionary digital contract language – Lexible – and spades of AI to automatically pre-screen contracts for risk. It is targeted at large corporates – and their managed service providers. It is a one of its kind platform with unique features designed to make it a world leader as the market matures.
The past year has seen phenomenal business growth, starting with an oversubscribed $1M seed round in April 2017, launch in September 2017 and then a rapid acquisition of household name clients in US, UK, Europe, Asia and Australia. These include the world's largest casualty insurer, the 4th largest retail bank in US, the leading global Asset Management business, Clifford Chance and Eversheds. And in January they filed their first patent in relation to unique aspects of the AI.
Over this time the team has grown from 7 people to 17 and is shortly due for another growth spurt as it establishes offices in US and Asia.
ThoughtRiver has also been nominated in the Legal innovation Awards later this month in relation to the deployment with Eversheds
We often talk about the world leading innovators we serve, but not many law firms can boast world leading deep technology innovation invented within their doors. If you are interested in finding out more please do speak to Tim Pullan.
TVie – My Wellbeing
Over the last 12 months we have continued to develop our wellbeing programme – with a team of 'Wellbeing Warrior' volunteers. This team has been tasked to look at all areas of wellbeing such as physical, mental health, financial, nutrition and hydration, with a view to promoting best practice throughout the firm.
Some of the activities we have delivered during the year have been:
Weekly Pilates classes
Free NHS health checks
Cycle to work scheme
Free fresh fruit daily
Weekly FitBit competitions
More healthy choices during lunch and learn sessions
More healthy choices in our vending machines
TV netball, football, cricket and badminton teams
Art class
Cake decorating classes
GREEN COMMITTEE
Our Green Committee was created as a part of the annual PitchUp competition by a group of people within the organisation that share a common goal to improve our green footprint.
The committee has started by reviewing our firm in a greener light and some of the measures already in place including the recycling scheme and foliage in the office. We have also reached out to local firms to see how they are improving their own green footprint. The committee are currently considering short term and long terms changes including reducing the firm's plastic consumption, upgrading the recycling system and reviewing the car pool/cycle to work schemes.
The team is also working on raising awareness by planning activities in the community to extend the reach of our green aims.
CSR
Thanks to all of the passionate individuals and groups who have rallied those around the firm for such worthy causes. Recent highlights include:
Wednesday Bake Sale in Merlin Place
Vertical Rush
Netball Charity Tournament
Legal Walks 2018